7 DIY Thanksgiving Decorations: Easy and Creative Ideas
What are you interested in?
Just click on one of of the topics below and learn how to make your favorite DIY Thanksgiving Decorations.
You Want to make more than just one Decoration?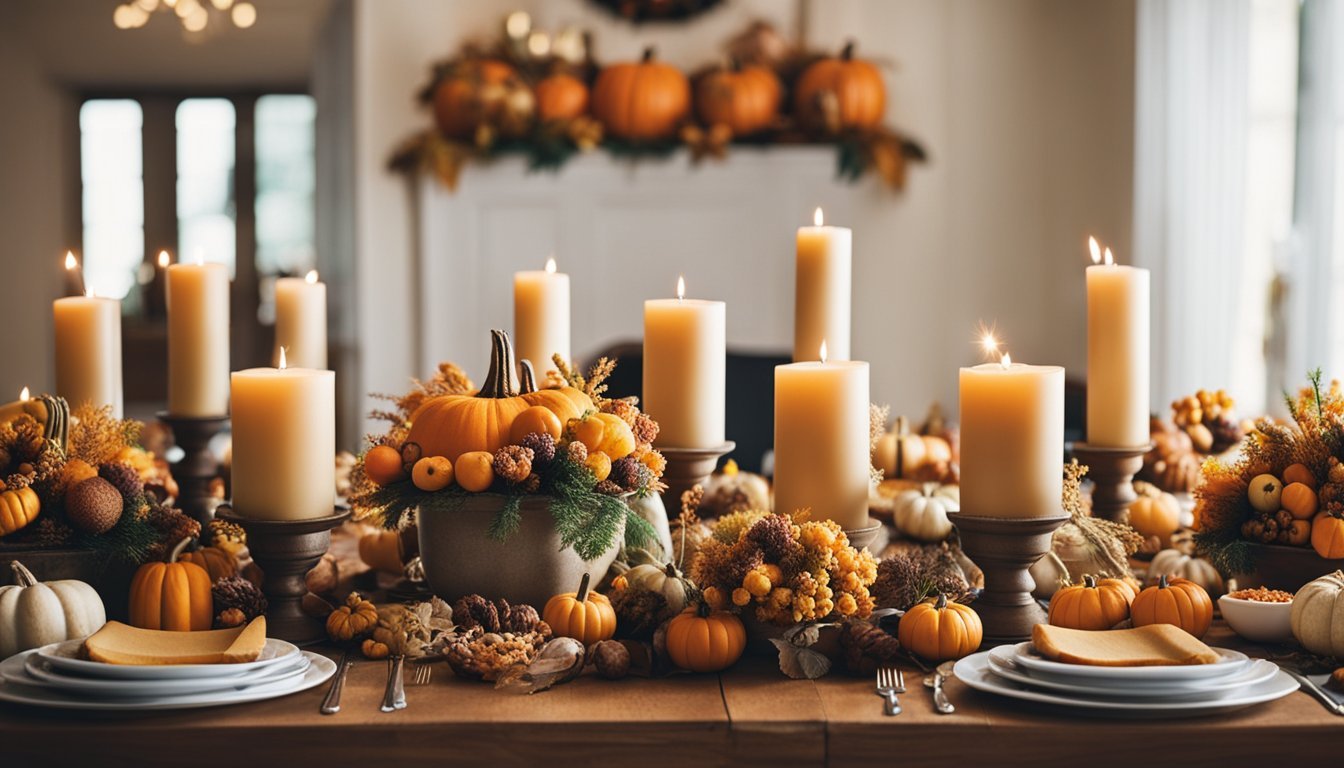 Start by Gathering your Materials
Next, take the time to gather the materials you'll need for your Thanksgiving DIY projects. This can include a mix of items from craft stores, dollar stores, and items you already have around your home. Common materials used for DIY Thanksgiving decorations include:
Followed by Choosing the Right Tools
Having the right tools will make your DIY Thanksgiving decoration projects go much more smoothly. When selecting tools, think about the specific projects you plan to tackle and what tools would be most helpful for each. Some common tools used for DIY Thanksgiving decorations include:
Now you got everything and you can finally start making some amazing DIY Thanksgiving Decorations for your home.
Traditional DIY Thanksgiving Decorations You Can Make
Thanksgiving is a time for festive and traditional decorations that create a warm, rustic atmosphere. In this section, we will focus on two iconic DIY Thanksgiving decoration ideas: making a cornucopia and creating a corn husk wreath. Both of these projects are perfect for adding a touch of traditional charm to your celebration.
Making a Cornucopia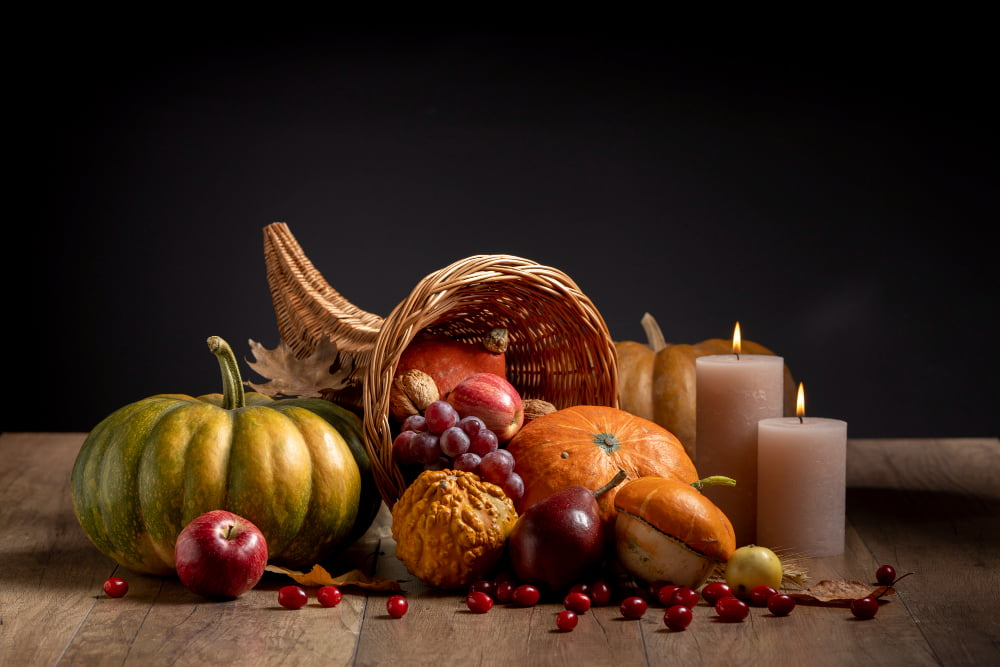 A cornucopia, also known as the "horn of plenty", is a centuries-old symbol of abundance and prosperity. Here's a simple way to make your own:
1. Choose a basket or container
Find a horn-shaped basket or container to serve as the base for your cornucopia. If you cannot find a horn-shaped basket, you can create a template using heavyweight paper or poster board and form it into a cone shape.
2. Fill it with seasonal items
Fill your cornucopia with a mix of festive and traditional items such as:
Small pumpkins or gourds
Fruits like apples and pears
Dried corn and wheat stalks
Nuts, pinecones, and berries
3. Arrange and display
Arrange these items artistically within the container and place your cornucopia on your dining table, mantel, or other prominent location in your home.
Thanksgiving Table Decorations
Designing a Thanksgiving Tablescape
Creating a stunning Thanksgiving table starts with a well-designed tablescape. Incorporate the beauty of autumn into your design by using warm colors, such as oranges, yellows, and reds. You can use natural elements like leaves, pumpkins, and pine cones to add an organic touch to your table. When selecting a centerpiece for your Thanksgiving table, consider using candles, flowers, or a combination of both for an elegant effect.
You could also arrange various-sized candles along the center of your table to create an intimate ambiance. Varying the heights of the candles adds depth to your design. For a rustic touch, use twine or raffia to tie a small bundle of sticks together and place them at each end of your centerpiece.
Cozy Place Settings
Place settings play an essential role in the overall look of your Thanksgiving table decor. Start by using a nice tablecloth or festive placemats. Consider using cloth napkins in coordinating colors with the rest of your tablescape. Fold the napkins in a decorative manner or use napkin rings to add a refined touch. Personalize each place setting with a handwritten place card, adding an extra touch of warmth and welcome to your Thanksgiving table.
When selecting dinnerware, consider using plates and bowls in warm, earthy tones that complement the rest of your decor. Alternatively, you can choose more traditional or elegant tableware to elevate your Thanksgiving table.
Floral Arrangements and Bouquets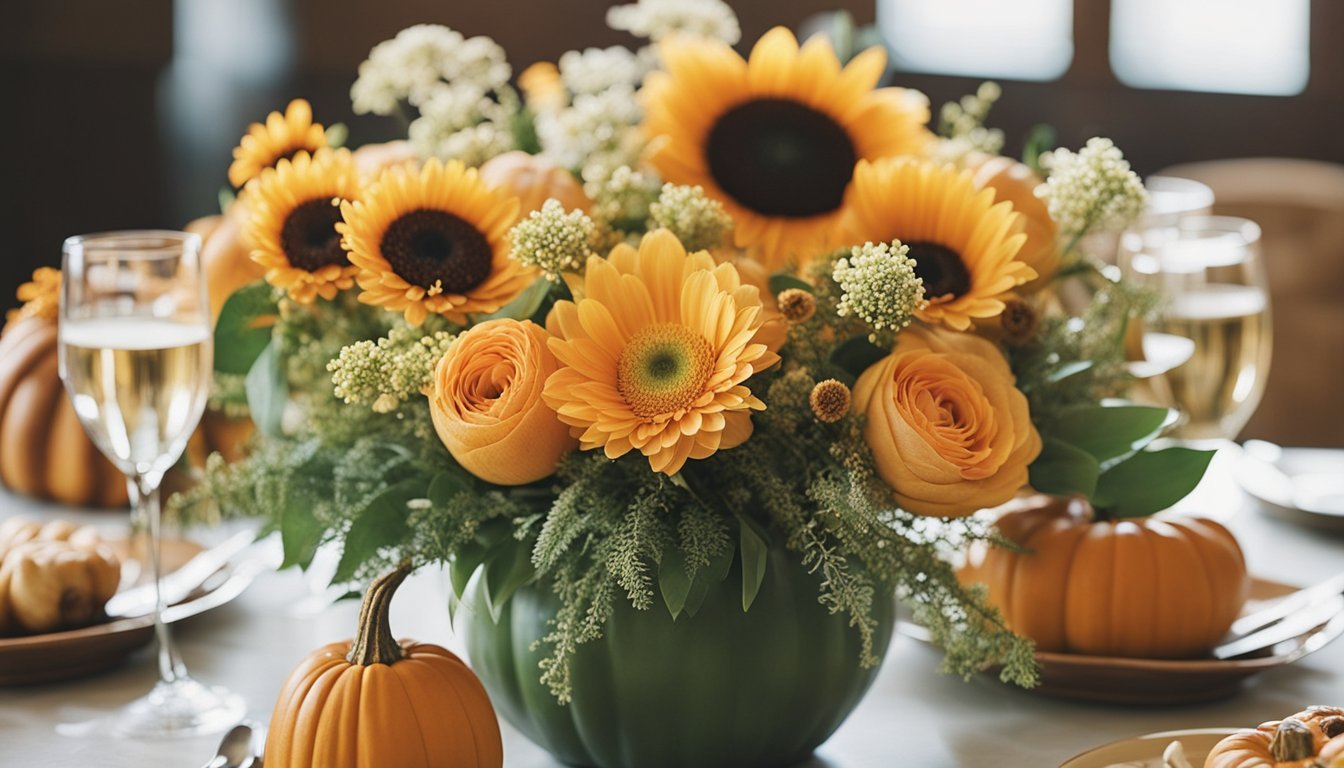 Thanksgiving Floral Arrangement
To create a Thanksgiving floral arrangement, you can begin by choosing a unique vase or container that complements your fall decorations. Fill the vase with water and add some liquid flower food to keep your flowers fresh. Select a mix of flowers in fall colors such as orange, yellow, and red for the perfect autumn vibe. Opt for classic fall flowers like mums, pom-pom daisies, and dahlias. Add some foliage, like eucalyptus or ferns, to give the arrangement a more natural, organic look.
Don't be afraid to incorporate non-floral elements, such as pumpkins and gourds, to add variety and texture to the design. Here's a simple breakdown of the steps:
Autumn-Themed Bouquet
An autumn-themed bouquet is another lovely way to introduce fall elements into your Thanksgiving decor. Start by selecting a mix of flowers in warm, autumnal hues. You can use popular fall flowers like sunflowers, roses, and chrysanthemums, as well as more unique additions such as dried thistle or wheat stalks.
When assembling your bouquet, be sure to vary the heights and textures of the flowers by trimming the stems at different lengths and clustering flowers of similar colors together. You can also wrap the stems with a festive ribbon or twine to secure the bouquet and add a finishing touch. Here are some steps to follow:
Porch and Home Decor
Thanksgiving Porch Decor Ideas
Decorating your porch for Thanksgiving is an excellent way to welcome guests and set the tone for a festive season. You can achieve a warm and inviting atmosphere by using items like pumpkins, gourds, and fallen leaves that represent autumn's bounty. Add a Thankful wreath to the front door as a beautiful and meaningful touch.
Candle lanterns, cozy blankets, and pillows can also be used to create a comfortable and welcoming ambiance. To take it a step further, consider placing potted blooms or small trees to bring in more life to your porch decor. Just remember, keeping it simple and charming will always be timeless and tasteful.
Creating a Rustic Feel at Home
A rustic feel for your home during Thanksgiving can be easily achieved with some simple, yet impactful, DIY decorations. To create that cozy, down-to-earth atmosphere, consider the following ideas:
Crafting with Kids
Fun Thanksgiving Crafts for Kids
Thanksgiving is a wonderful time for families and friends to come together and celebrate. Your kids can get involved in the festivities too by participating in some fun and simple DIY Thanksgiving decorations. One easy and enjoyable craft is creating a Mason Jar Leaf Lantern. All you need are mason jars, fabric leaves, Mod Podge, and tea lights. Let your kids decorate the jars by applying the fabric leaves with Mod Podge. Once dry, place the tea lights inside and light them up for a warm and festive touch to your Thanksgiving table or mantle.
Another great option is the Confetti-Stuffed Turkey. With just some construction paper, glue, and confetti, your kids can create a cute and colorful centerpiece for your Thanksgiving table. To make the turkey even more special, have your kids write what they're thankful for on the turkey's feathers.
Creating a Thankful Tree
A Thankful Tree is a charming and meaningful addition to your Thanksgiving decorations. It's also a fantastic way for you and your kids to reflect on what you're grateful for this holiday season. To create a Thankful Tree, follow these simple steps:
Pick a spot in your home where you'd like to display your tree, such as a tabletop, fireplace mantle, or corner.
Find a sturdy branch from outside or purchase a small artificial tree.
Place the branch or tree in a vase or pot, and secure it with stones or pebbles for stability.
Have your kids cut out leaves from construction paper in various autumn colors.
Provide markers or pens for everyone in the family to write what they're thankful for on the paper leaves.
Attach the leaves to the tree branches with tape, glue, or string.
Frequently Asked Questions
A simple centerpiece can be made by arranging fall foliage, pinecones, and berries in a vase or basket. For a more elaborate centerpiece, consider using pumpkins, gourds, and candles.
Some easy DIY decorations include creating a banner with fall leaves, making a wreath out of twigs and berries, and painting acorns to use as place card holders.
Consider using a table runner with fall colors, adding a centerpiece, and using place cards with a Thanksgiving theme. You can also incorporate natural elements like leaves, pinecones, and acorns into your table decor.
---
If you liked this post about DIY Thanksgiving Decorations, don't forget to follow us on Pinterest so you don't miss any more interior design news!