Masculine Interior Design: 5 Bold Tips for a Stylish Man Cave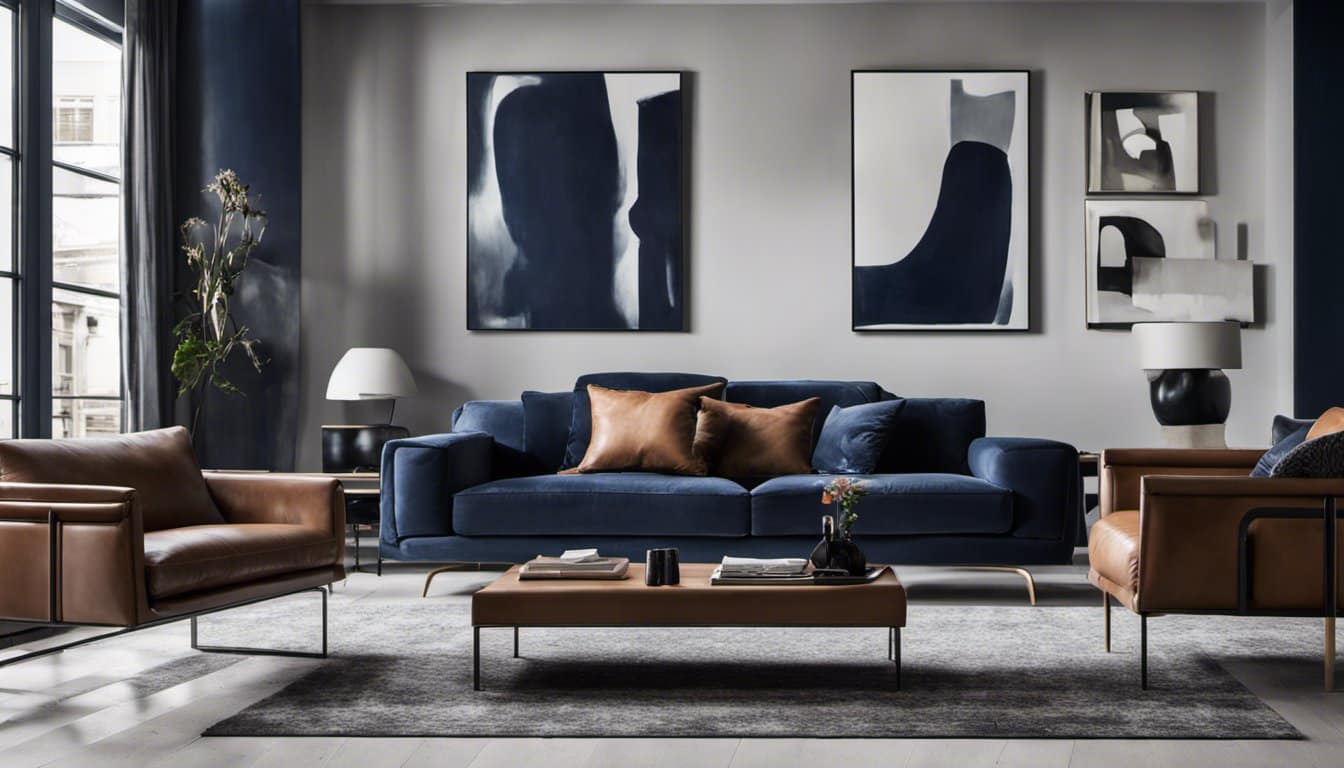 Are you tired of the same old boring interior design ideas? Do you want to add a touch of style and sophistication to your living space? Then look no further than Masculine Interior Design! This trend has taken the world by storm, and for good reason.
It's the perfect way to add a touch of sophistication to your home, whether you're looking to create a cozy den or a sleek and modern living room. From sleek leather sofas to industrial-style lighting, there are endless ways to incorporate Masculine Interior Design into your home.
5 Tips from Interior Designers
To achieve contrast and balance in your masculine room:
By following these suggestions, you'll create a balanced and stylish masculine room that is both functional and personal.
Understanding Masculine Interior Design
When you're looking to create a masculine interior design for your home or space, there are a few key elements you should consider. A sophisticated and functional masculine design will typically feature a few specific components that give the space a unique, modern, and manly vibe.
One of the ways to infuse masculinity into your home design is through raw textures. By opting for rugged materials and an unfinished appearance, you can achieve a more masculine look. The lack of refinement and polish in certain areas can actually emphasize the masculine character of the space.
Another essential aspect of masculine interior design is the furniture and patterns chosen for the space. Incorporating geometric shapes and straight edges in furniture and upholstery lends a masculine feel. To create variety, you can mix hard items like a rectangular wooden cocktail table with soft items like a padded armchair featuring a boxy silhouette.
Color schemes with neutral tones also play a significant role in masculine design. A neutral palette with shades of gray, black, and white can create a sense of clean and organic structure. Black, especially, when combined with leather and classic furniture pieces, can bring depth and definition to a space, exuding a sophisticated masculine vibe.
Incorporating Colors
When incorporating colors into your masculine interior design, you should focus on a blend of neutrals and dark colors to create a stylish yet inviting space. Start by choosing a neutral palette as a base, such as taupe, beige, or gray for your walls. These versatile shades provide a solid foundation, allowing you to add bolder accents without overwhelming the room.
While a neutral backdrop is essential, don't be afraid to experiment with darker shades, as well. Consider options like navy, dark greens, or charcoal to introduce a sense of depth and sophistication. To keep the look balanced, feel free to play with various tones of dark colors, creating contrast and visual interest.
Add pops of color to the room through decorative accents and artwork. Colors such as white, red, and orange will contrast nicely against the darker shades while maintaining a masculine aesthetic. However, avoid overusing these bright accents; remember that less is more in a well-designed space.
Furniture and Accessories
Selecting the right furniture and accessories is crucial in creating a welcoming masculine space. Choose pieces that are both stylish and functional. This will ensure your living area is not only aesthetically pleasing but also comfortable and efficient.
Leather sofas and chairs are always a great choice for a masculine living room. They offer a timeless appeal and are known for their durability. Search for pieces with clean lines and minimal embellishments to create a sleek and sophisticated look. Pair your leather sofa with a sturdy coffee table made from materials like wood or metal for a cohesive feel.
Don't forget about the bar area, as it's a fantastic addition to any masculine space. A vintage-inspired or modern bar cart not only serves a practical purpose but also adds an interesting focal point to the room. Stock the bar with your favorite beverages, stylish glassware, and other essential bar accessories.
Your bedroom should also reflect your masculine style, and a stylish bed is the center of attention. Choose a bed with a solid, sturdy frame made from materials such as wood or metal. Opt for bedding in neutral colors and minimal patterns to enhance the overall aesthetic of the room.
Incorporate various accessories in your space to provide character and depth. Focus on choosing items that represent your interests, such as artwork, books, or unique decorative items. Add cozy elements like area rugs or throw blankets to contrast the room's hard lines and surfaces.
Consider adding statement pieces like a bold sofa or an eye-catching piece of artwork. Just be sure not to overdo it with too many decorative items, as it may clutter the space and detract from its masculine appeal. Remember, less is more when it comes to accessorizing a masculine interior.
Materials Used in Masculine Design
In creating a masculine interior design, selecting the right materials is crucial. Below, you'll find various materials you can incorporate into your space to achieve that masculine vibe.
Metal: Metals such as steel and bronze are fantastic choices for achieving a strong, industrial feel in your space. You can use these in furniture, lighting fixtures, or even as decorative accents like sculptures or wall art.
Wood: Wood is a classic favorite for masculine spaces. Opt for dark brown wood with either a lot or very little grain to suit your taste. Matte finishes or a completely unfinished look also create that desired rugged charm. Natural wooden textures in furniture, paneling, or flooring can instantly evoke a sense of warmth and masculinity.
Leather: There's something timeless about leather that makes it an excellent choice for masculine design. Incorporate leather furniture, like a classic Chesterfield sofa, or smaller leather accents such as poufs, cushions, or upholstered chairs.
Stone: Stone exudes strength and stability, making it a great material for masculine spaces. You can use stone for flooring, wall cladding, or even as a focal point with a stone accent wall or fireplace. Go for darker varieties or shades to up the masculine factor.
Concrete: Concrete is a versatile material that can be used in several ways in a masculine design scheme. From polished concrete floors to raw concrete walls, this material adds a strong, industrial aesthetic to your space.
Tweed: Last but not least, tweed is a fantastic fabric choice for adding a touch of sophistication to a masculine space. Use it in upholstered furniture, throw pillows, or even as a wall covering to infuse an earthy, textured element into your design.
Minimalism and Masculine Design
Incorporating minimalism into masculine design can create an elegant and sophisticated space. Minimalism focuses on clean lines, sleek design, and a limited color palette. This concept emphasizes functionality and simplicity, making it an ideal choice for your masculine interior.
To achieve a minimal and masculine design, start by decluttering your space. Remove any unnecessary items or decorations. This will create an open, airy feel that promotes focus and relaxation. Use smart storage solutions to keep your belongings organized and hidden from sight.
Designing Different Spaces with Masculine Aesthetic
When designing a masculine living room, focus on creating a stylish and functional space with comfortable furniture, a neutral color scheme, and cool accessories. Consider adding elements like leather sofas, dark wood accents, and industrial-style lighting. Large statement artwork and plenty of plants can add a touch of sophistication to the space.
For your kitchen, aim for a clean and sleek design with stainless steel appliances, dark cabinetry, and durable countertops like quartz or granite. A minimalist approach with open shelving and modern barstools can further enhance the masculine aesthetic.
In the bedroom, opt for a simple and elegant design with a focus on comfort. Choose bedding in neutral colors or subtle patterns, and accessorize with bold throw pillows or a cozy blanket. Incorporate a mix of textures like wood, metal, and fabric for a layered look.
The dining room can be elevated with a sturdy table, comfortable chairs, and minimalistic décor. Stick to a monochromatic color palette and add an industrial touch with metal accents or a statement light fixture.
For your home office or a dedicated workspace, function and organization are key. Invest in a comfortable desk chair and choose a desk with ample storage. Decorate the space with artwork that inspires you, and use open shelving or bookcases for easy access to your supplies.
Frequently Asked Questions
Masculine interior design is a style that emphasizes dark colors, clean lines, and simple yet bold patterns. It often incorporates natural materials like leather, wood, and metal to create a sleek and sophisticated look.
To make your home more masculine, start by choosing a color palette that includes shades of black, gray, and navy blue. Incorporate natural materials like leather and wood into your furniture and decor, and choose simple yet bold patterns for your textiles.
Key elements of masculine interior design include clean lines, dark colors, natural materials, and simple yet bold patterns. Furniture should be functional and practical, with a focus on comfort and durability. Lighting should be minimal and functional, with a preference for task lighting over ambient lighting.
---
If you liked this post about masculine interior design, don't forget to follow us on Pinterest so you don't miss any more interior design news!