INTERIOR DESIGN | Clever Home HACKS (Part One)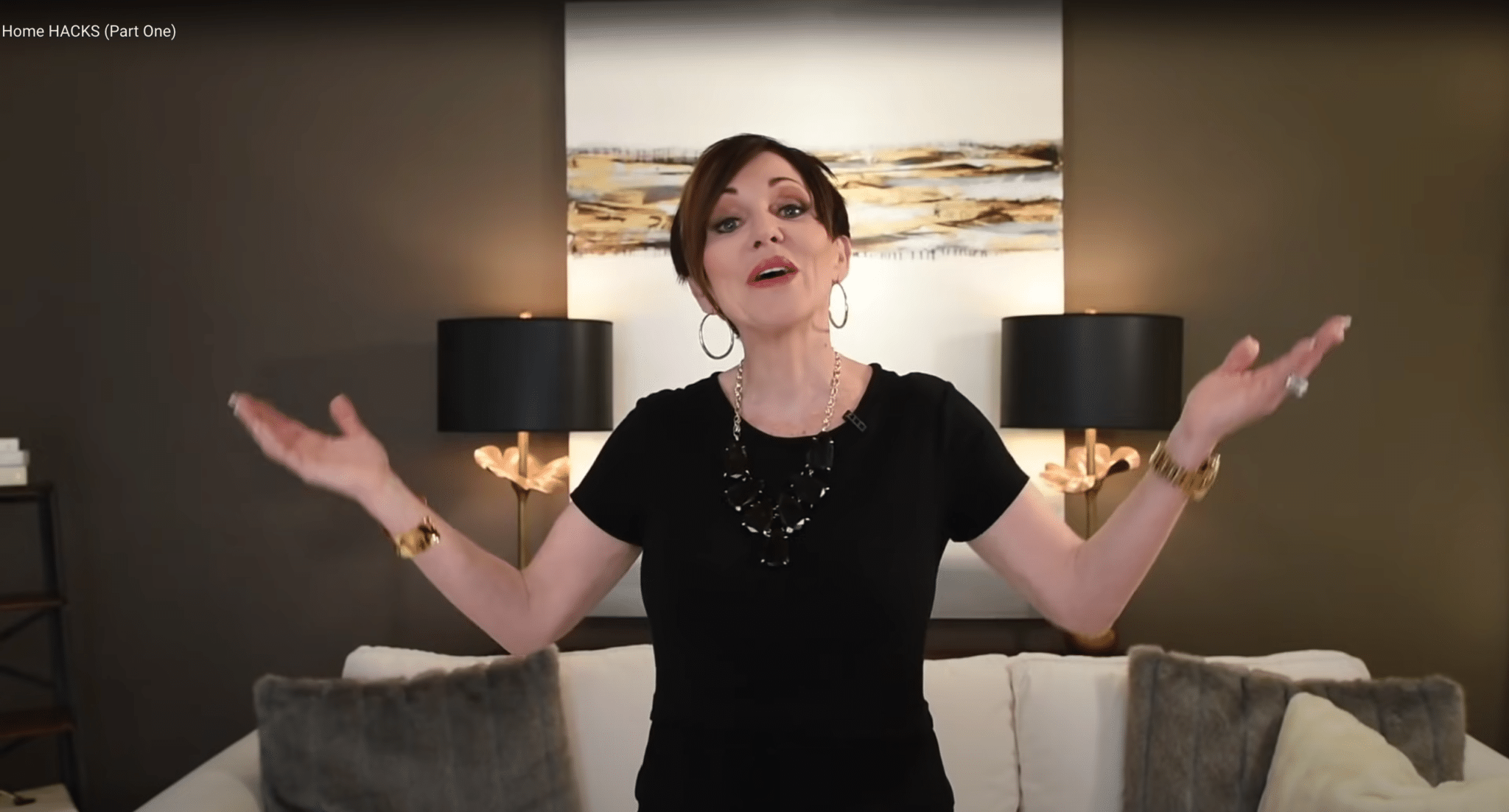 In today's world, interior design is more important than ever. With so many people spending more time at home, it's crucial to create a space that is comfortable, functional, and aesthetically pleasing. However, achieving the perfect balance can be a challenge. That's why Rebecca Robeson has compiled a list of 10 clever home hacks that will helped her transform her living space into a haven of relaxation and productivity.
Whether you're looking to spruce up your living room, bedroom, or home office, these hacks are designed to be practical and easy to implement. From creating a cozy reading nook to maximizing storage space, we've got you covered. So, without further ado, let's dive into part one of our 10 clever home hacks series and discover some simple yet effective ways to elevate your interior design game.
Key Takeaways
Office space conversion demonstrates creative use of available area
Focusing on the importance of lighting and entrance design creates a more appealing living environment
Clever ideas like optical illusions and hidden doors can enhance the aesthetic of your home
Importance of Lighting
Lighting plays a significant role in enhancing the overall ambiance and aesthetics of a home. It has the power to transform dull spaces into bright, inviting environments. In this particular home, the owner focused on improving lighting throughout, making each area visually pleasing and cozy.
One key area where lighting was updated is the kitchen. In the past, the room had poor lighting, which made the space appear uninviting. To change this, Rebecca removed the original light fixtures and opted for canned lights instead. They also installed pendant lights over the kitchen island, which not only illuminated the countertop but added a touch of elegance to the space.
Another clever use of lighting in this home was adding natural light to the entryway. To do this, Rebecca installed an old vintage window, which allowed natural light to flow through and bring warmth to the area. This also created an architectural focal point, enhancing the overall look of the space.
In conclusion, the importance of lighting in a home should never be underestimated. Strategically placed lights can enhance the ambiance, improve functionality, and even boost the visual aesthetics of any living space. By being mindful of lighting choices and placement, one can significantly improve the overall atmosphere and comfort of their home.
Entrance Design
Rebecca enhanced her home by creatively transforming the entrance area. Upon purchasing her house 15 years ago, she found the entry to be a dark and confining rectangle with a low drop ceiling. To create a more inviting and visually pleasing entrance, she made several design modifications.
First, she added a transom of molding with crown molding on top in an off-white color. This gave the illusion of a higher ceiling, drawing the eye upward and making the area feel more open. She also decided to make a statement with a 10-foot tall mirror, which was arched at the top and surrounded by eight-inch thick casing, creating an elegant focal point for the space.
To achieve an interesting architectural element and introduce natural light into the entryway, she incorporated a vintage window she found at a garage sale. By opening up a hole in the wall and hanging the window with hooks and eye screws, she created a peekaboo view into the living room.
Rebecca knew she wanted a striking staircase in her home, similar to those she'd designed for clients. Originally, the stairs were straight and had a pony wall in Southern California tract home style. She collaborated with Luis, a skilled custom iron railing artisan, and her contractor to redesign the staircase, giving it a swooping curve and space for the beautiful ironwork.
In a surprising twist, she mixed the existing light wood floor downstairs with a dark espresso floor upstairs, complementing the dark wood finishes in her furniture.
With these carefully thought-out design choices, Rebecca Robson significantly enhanced the overall appeal of her home, proving the power of thoughtful entrance design in creating a welcoming and impressive space.
Creating Optical Illusions
To create an optical illusion in a home, one can cleverly utilize design elements and architectural features. A well-placed large mirror, for example, can give the impression of a more spacious room. By having an arched top and surrounding it with thick casing, the mirror appears as a grand entryway, making the room feel more expansive. To enhance this effect, one can ensure that the floor runs seamlessly into the mirror, further tricking the eye into perceiving extra space.
Another way to create an optical illusion is by incorporating vintage windows into the design of the entry. Opening up a hole in a wall and hanging an old window on cup hooks and eye screws can add natural light and architectural interest to an otherwise dull area. Moreover, using dark-stained wood for the vintage window frame adds continuity in the room.
Architectural Interest in Entryway
When guests enter the home, they are immediately drawn to a striking 10-foot tall arched mirror, framed by eight-inch thick casing. This feature adds a touch of elegance and creates the illusion of an extended space, making the entryway feel grand and spacious.
To further enhance the architectural interest of the entryway, an old vintage window was added to a previously plain wall, providing a glimpse into the living room and giving the space an additional layer of charm. This unique decision allowed for the entryway to be illuminated with natural light.
In a bold and unconventional move, Rebecca chose to mix different shades of wood flooring. The downstairs area features a light wood, while the upstairs showcases espresso wood flooring.
All these thoughtful details create an entryway that captures the attention, inviting guests into a beautiful and comfortable home. The unique touch of architectural interest in the entryway sets it apart as an exceptional and memorable space.
Staircase Remodeling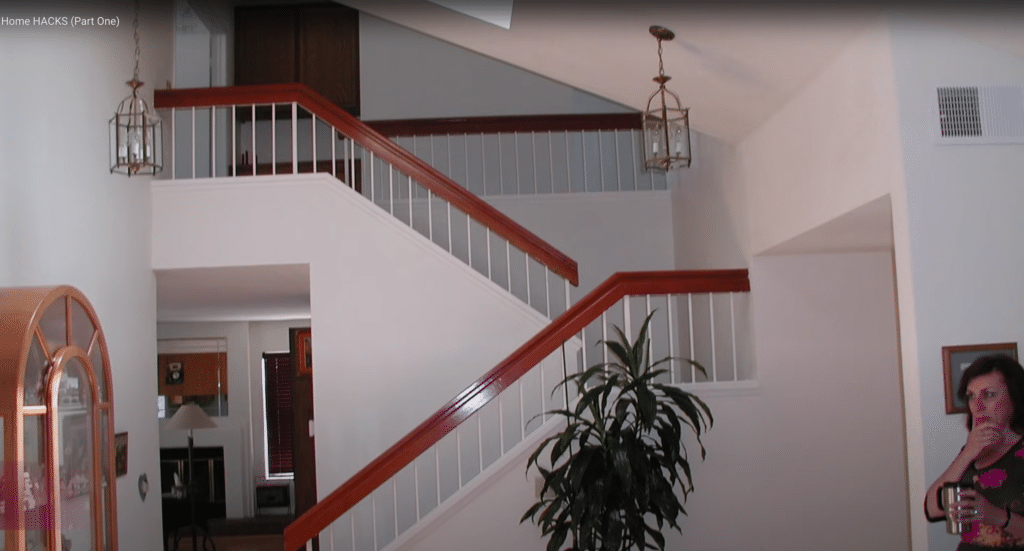 When it comes to improving your home, one impactful area to focus on is the staircase. A staircase can be more than just a functional part of the house – it can be transformed into a beautiful focal point that creates a welcoming atmosphere.
One strategy to enhance the appearance of a staircase is to replace the existing railing with a custom iron railing. This adds elegance and a sense of timeless style to the area. To further elevate the design, consider having your staircase curve around for a more fluid look rather than emptying out in a straight line. This will give the staircase a more inviting feel while also improving the flow of the space.
A unique idea to consider is to contrast the flooring on different floors of the home. For example, light wood flooring on downstairs levels could be paired with a dark espresso colored wood on the upper floors. This creates a visually striking effect that adds depth and character to the staircase and space overall.
No staircase remodeling is complete without proper lighting. Not only will this make the area more functional, but it can also enhance the ambiance of the space. Opt for warm, soft lighting and consider incorporating pendant lights and subtle recessed lighting throughout. This helps to create a cozy, inviting atmosphere that truly feels like home.
In conclusion, staircase remodeling is an excellent way to bring new life into your home and create an aesthetically pleasing focal point. By considering custom railings, a unique flooring contrast, and proper lighting, you can create a staircase that will gracefully stand the test of time.
Mixing Wood Colors
A creative way to enhance the visual appeal of your home is by mixing wood colors. This unconventional approach can create a striking effect, especially when incorporating both light and dark wood tones within the living space.
In this case, Rebecca chose to use light wood for the flooring downstairs and a rich espresso shade upstairs. This daring choice was motivated by the desire to match the dark wood furniture that was already in place. The blend of contrasting wood colors turned out to be an unexpected yet visually appealing design decision.
For those considering this approach, it's essential to strike the right balance when mixing wood tones. Seek harmony between the dark and light wood colors, ensuring that they complement each other well. Don't be afraid to experiment with unconventional design choices – sometimes taking risks can lead to impressive and unique results.
Kitchen Transformation
In the heart of the home, the kitchen has come a long way since its early days. 15 years ago, it began as a little foreboding with an overwhelming bank of cabinets dividing the space and creating a closed-off feeling. With a desire to create a more open and connected layout, the cabinets were removed, effectively combining the kitchen with the adjoining room.
An essential element of the transformation was also the lighting. Transitioning from unflattering ceiling lights to warm and inviting canned lights helped improve both the atmosphere and the appearance of anyone within the space. The perimeter lighting was also preserved, maintaining the original shape.
Although the kitchen is yet to undergo a complete makeover with new countertops and cabinets, merely coating the oak cabinets in a dark espresso made a significant impact. The tone choice was not only cost-effective but also seamlessly integrated with the rest of the home.
Another creative idea to address the imbalance created by removing the cabinet was simply leaning a stained shutter bought at a local home depot against the wall on the lighter side of the room. This addition both satisfied aesthetic preferences and contributed to the cohesive style of the space.
With plans for a full kitchen remodel still in the pipeline, the current kitchen transformation has been skillfully executed to combine practicality and style with a friendly atmosphere.
Clever Ways to Hide Doors
Doors can sometimes make a space feel fragmented and cluttered. Finding creative ways to hide or blend doors into the surrounding walls can offer a more seamless look to a room. Here are some tips and techniques to help you hide doors in your home.
Remove doors when possible

: If a door isn't necessary, consider taking it off altogether. For instance, remove the door to the laundry room and put decorative casing around the opening to blend it with the wall.

Use solid core doors

: Installing a solid core door in the bathroom adds a touch of elegance. You can also use the same casing as the surrounding walls to create a uniform look, making the door less noticeable.

Texture and paint the door

: To make a door blend seamlessly with the adjoining wall, apply the same texture and wall paint to the door. This will camouflage the door to appear like a part of the wall.

Add a touch latch

: Replace traditional door handles with touch latches. These latches stay hidden, eliminating visual cues that would normally make it obvious that there's a door present.

Install baseboards across the door

: To create the illusion of a continuous wall, place baseboards across the hidden door. Be sure to notch out an angle on both ends of the baseboard so that the door can open completely without any obstruction.
Following these suggestions can help you achieve a unified and visually appealing space, effectively hiding doors while maintaining functionality.
My Thoughts
There is now doubt, that Rebecca Robeson loves her job and that she is a professional Interior Designer. I really like, that most of the changes she made to her home are also doable for the average person. I don't not have to be a professional craftsman to mount a mirror on the wall or to hide a door. And even I don't know to remodel a staircase, I can hire someone who will do it for a reasonable price.
If you liked this review of Rebecca's video about Clever Home Hacks, don't forget to follow us on Pinterest so you don't miss any more interior design news!